Beach & Float Package
Indulge in a Tranquil Beach Getaway
Experience total tropical relaxation with our Beach & Float Package, an oasis of rejuvenation that combines the serenity of a beach day with the profound benefits of a sensory deprivation float session.

Step into our Beach Halotherapy room and be transported to a coastal paradise as salt-infused air gently revitalizes your respiratory wellness. Afterward, surrender yourself to the tranquil waters of our Float Suite, where you'll effortlessly float away on this one-hour meditative journey, leaving stress and tension behind.
SOLO: $100    |    COUPLES: $150
Benefits of the Beach & Float Package
Halotherapy: Revitalize your respiratory system and breathe in the cleansing properties of salt-infused air.
Sensory Deprivation: Drift into a state of deep relaxation, unburdened by external stimuli, and experience profound mental and physical rejuvenation.
Couples Escape (for Couples Package): Strengthen your bond as you embark on this tandem journey, sharing moments of blissful relaxation together.
Massage & Float Package
Reconnect with Inner Harmony
Unwind and recover with our Massage & Float Package—a harmonious blend of our two most popular services, carefully curated to provide you with the ultimate relaxation experience.

Begin with a one-hour customized massage, expertly tailored to ease tension, soothe muscles, and leave you in a state of pure tranquility. After your massage, step into our private Float Suite, a sanctuary of complete peace and quiet. As you enter the tranquil waters, you'll be gently cradled by the salty water's buoyant embrace, freeing your mind from distractions and allowing deep relaxation to take hold. Drift into a meditative state, where time seems to stand still, and emerge feeling refreshed and rejuvenated.
SOLO: $150
Benefits of the Massage & Float Package
Customized Massage: Experience skilled hands working their magic, releasing knots and restoring balance to your body.
Sensory Deprivation Float: Enter a state of profound relaxation, as worries dissipate, and inner peace emerges.
Beach & Float Package
The Beach & Float experience begins with a halotherapy session in our luxurious beach suite, which is designed to help you completely relax while the salt air restores your respiratory health and immune strength. Then, feel your worries and stress dissipate with a 1-hour sensory deprivation float, where you'll effortlessly float in the warm, salt-infused waters, allowing your mind and body to completely relax.
Want to share this experience with someone else? Our Float Suite is big enough for two to float side-by-side!
 Solo: $100   |   Couples: $150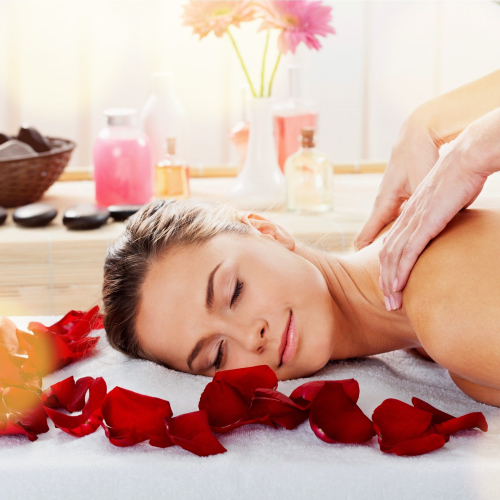 Enjoy a Spa Day Vacay with these Packages
Through the rest of February, treat yourselves to a spa day unlike any other or give that special someone one of these uniquely healing experiences. At Salinity, we offer a variety of packages designed to help you relax, recover, and enjoy the peaceful presence of one another.

Massage & Float Package
Solo  $150

Beach & Float Package
Solo  $100   |   Couples  $150
Promotions valid through 11/30/22