Floating While Pregnant
Floating While Pregnant: Relief, Recovery & Bonding with Baby
We want to feature the amazing benefits that expectant mothers can gain from the intimate bonding time and healing relaxation that a float session can bring to both Mom and her little miracle. However far along in your pregnancy, floating can alleviate numerous aches, pains, and stresses caused by the immense strain on the mind and body that can occur during pregnancy.
Bringing a child into the world is a beautiful experience, but let's be honest, it isn't without its struggles! From achy joints and muscles, to bloating, back pain, the occasional hormonal rollercoaster, and the external stressors of life, the physical and emotional trials put on Mom can take quite a toll.
In recent years, there's been a growing trend of floating during pregnancy to relieve these very issues, and we can totally see why! Offering immense pain-relieving and relaxation benefits, especially during the late second and third trimesters, floating can offer a unique moment of bliss for both Mom and baby.
Whether you're a first-time mom-to-be or adding another little one to your growing family, there are few demographics who can experience the rewards of floating quite like expecting mothers. And while it is always recommended that you direct all medical questions to your health care practitioner prior to visiting us at Salinity, we hope to treat you with a peaceful floating experience and add you to the growing list of mothers who are finding relief and beautiful bonding moments in our floating suite. You and baby deserve it!
So if you are an expecting mother considering floating, allow us to walk you through a few ways that floating can bring relief and contentment to you during these precious months.
The Magic of Zero-Gravity
Expecting mothers can get more relief from floating than most, as the extra strain and weight carried for such an extended period of time causes pain to the spine, joints, and muscles. Finding true moments of rest during this time can be difficult, but here at Salinity, our float suite is packed with large amounts of Epsom Salts to give you the zero-gravity experience that floating is famous for. In this suspended floating state, the buoyancy of the water dissipates all that extra weight to relieve your muscles, decrease
inflammation, and relieve the pressure that gravity places on the organs and the baby, giving the body a chance to relax and accelerate the recovery process.
Epsom Salt to the Rescue
Epsom salt is one of many naturally occurring minerals provided by Mother Earth, and has numerous benefits thanks to the magnesium it contains. Not only will floating in Epsom salt decrease inflammation in the body, but during the float, you will also absorb significant amounts of the essential mineral through the skin. This is the best and most efficient way possible to reap the benefits of magnesium, an important mineral for a wide range of biological functions.
To name just a few benefits, magnesium can add moisture and elasticity to the skin, add shine to hair, reduce pain from sore muscles and pesky headaches, help to regulate blood sugar, and even improve quality of sleep. This natural mineral can sure do a lot!
Emotional Stability
The surge of hormones on top of bodily changes can profoundly impact your moods, adding to the rollercoaster ride of the pregnancy experience. Floating is an effective way of balancing your hormones by regulating production of cortisol (the stress hormone) and alleviating lactic acid in the muscles. This leaves you feeling refreshed and revitalized as soon as you step out of the float suite.
A Special Moment with Baby
During a peaceful float session in our float suite, mother-to-be and baby share a special moment together in a unique space that cannot be replicated anywhere else. Many mothers liken the experience to being in the womb, suspended and floating—just like baby! This has been called a "mirror effect" and it allows a deep bond to form between mother and baby during the sensory deprivation the float provides. This special moment between Mom and baby is one of our favorite reasons for recommending a float to any
expecting mother. It is truly rare to find such an uninterrupted and intimate moment between just you and baby.
…and that's not all!
Research shows that the benefits of floating for anyone (including Dad!) can have immense benefits like reducing blood pressure, improving oxygen consumption, boosting your immune system, and aiding with anxiety and mental health.
If you're ready to have the Salinity experience, continue reading to learn about what floating while pregnant can look like.
A Guide to Floating Positions While Pregnant
We've made a guide to help you find the best position that works for you. The following are a few suggestions to give you the most comfortable float possible. You have the option to float safely on your back or your belly. Normally this position would be risky for the health of the mom and the baby, however, in the weightlessness of our sensory deprivation float suite, you have the option to float on your belly because the normal constriction of blood flow to the placenta and pressure on veins is not present because there is no rigid surface to cause any restrictions.
Getting Into a Comfortable Floating Position
While some positions may depend on factors such as height, body type, and personal preference, you have several options to explore: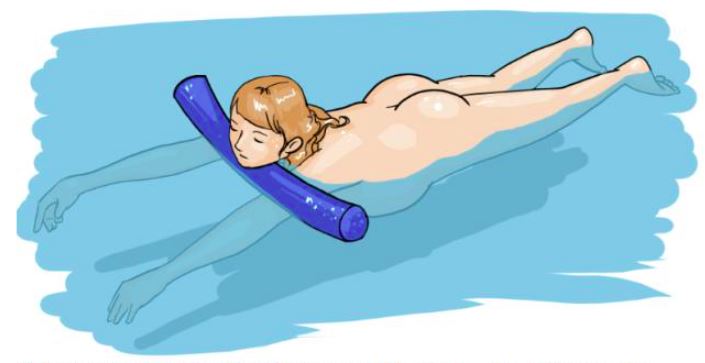 You can lay on your belly with your arms across the noodle, and the noodle under your chin to keep your face out of the water. This will keep your head supported above the water, even if you drift off to sleep.

Another option for floating belly down in the water is to put your elbows on the floor of the cabin and rest your chin in your hands. The depth of the water is approximately the length of your forearms, so your face will remain dry. One bonus benefit of this position is the great stretch to the spine that it provides.
You might also be comfortable crossing your arms under your chin and floating belly down while resting your head on your forearms. This is similar to floating with a pool noodle, and might be preferable for some
Floating on your back is also a safe option for those who prefer it. You could use the noodle pillow under your lower back, but you probably won't need it thanks to the gravity-defying support of the Epsom salt.
Hours of Relaxation for Moms-To-Be: NEW Prenatal Massage & Float Package
Pregnancy can often be a stressful time for expecting mothers, so we've designed this Prenatal Package with mothers in mind.
This journey of pure relaxation begins with a custom prenatal massage with our Licensed Massage Therapist, followed by the one-of-a-kind experience of sensory deprivation floating that allows mother-to-be and baby to share a special moment together in a unique space that cannot be replicated anywhere else.
Prenatal Massage & Float Package: $125
Dads need Floats too
It can be quite stressful and exhilarating preparing for a new baby, and floating is always an amazing stress reliever, regardless of whether or not you actually have another life form actually growing inside of you.
Why not come in for a date night together with our Partner Float or the Beach & Float Package for Two?
More questions?
We are here to help!
Send us an email at info@salinityforyou.com or call us at (913) 909-SALT (7258) and we will be happy to help you out.